Life in the good old days!
Published on May 18th 2018 by LMNS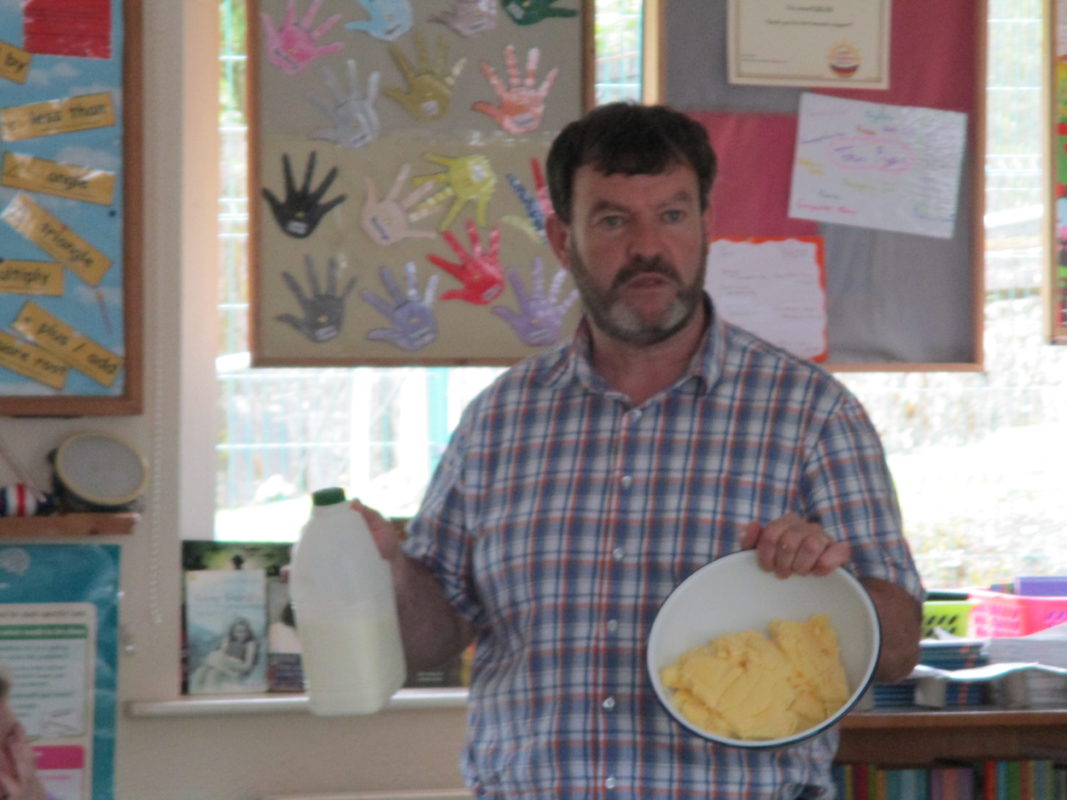 Pat came in to visit our school on May 8th as part of Heritage in Schools. He showed us how to make our own butter and told us all about how butter was made when his Grandmother was young.
He had a special churn, paddles and a special tool to add salt to the butter. We each got a chance to churn the cream until it became butter. We drained off the buttermilk, washed the butter and we even got to taste both the buttermilk and the butter.
We also learned about Sugán rope making and we got a turn to twist the hay into ropes. These ropes would have been kept in a shed until they were needed. They were called clú. Perhaps this is where the saying – 'I haven't got a clú' came from!
He set the Senior Room a challenge: We had to figure out how to turn a bag into a coat. He told us that couldn't cut the bag, we couldn't use string, we had to be able to see and we couldn't hold the bag but we had to stay dry and cover our head and back. Many of us gave it a go, in the end there was a very simple solution!
Life in the Good Old Days Junior Room
On Tuesday 8th of May Pat came to our school to show us how to make butter.  Pat had a wooden butter marker.  We put cream into it and we all got a turn to turn the handle.  Then we went to the other classroom.  Pat showed us how to drain the buttermilk.  We all tried the butter and the butter milk.  Then in the afternoon we went outside to make a rope.  We used hay to make the rope.  We twisted the handle and made the rope.   Long ago they used the rope for hanging the clothes out to dry.  They also used it for boys and girls to be dropped down the side of a cliff to get the seagulls eggs and to make sugán chairs.   We really enjoyed Pat's visit.  2nd Class